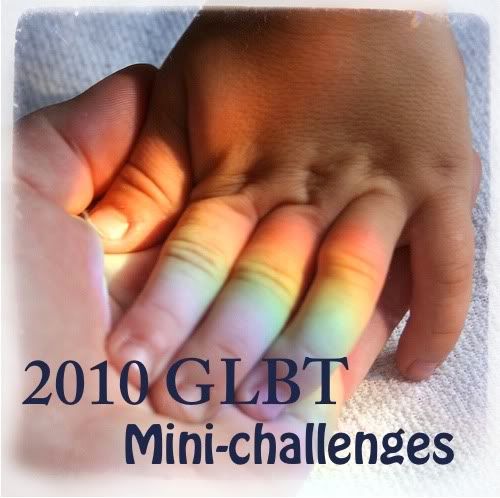 First, I need to announce the winner of the June mini-challenge. There were only three participants in June's mini-challenge (yikes) but Random.org has chosen......
#2 - Amy from Amy Reads!
Congratulations, Amy! Take a look at the
prize bucket
and send me an email (address is in the sidebar) with your choice and address.
The July mini-challenge here at the Challenge That Dare Not Speak Its Name actually has nothing to do with books. We're taking a little break here.
Throughout the month, we're going to have some guest posts about music and art that is related to GLBT issues (GLBT musicians or artists, GLBT-themed art, etc). You may listen to some of this music, listen to other music related to GLBT issues, read a book about GLBT-related art or artists, look through some GLBT-related art...it's pretty much up to you. We're just expanding our boundaries here. Whatever you decide to do, post about your reaction or your finds (make sure to include why they are GLBT-related), and link to it in the Linky below.
Prior to July, we've been drawing a winner for each mini-challenge, but going forward, I'm afraid Jen and I both need to scale back the challenge a little bit. I will post more information about this in the next few days, but the gist is that there will no longer be prizes for the mini-challenges. These mini-challenges instead are just meant to expand our horizons, reading and otherwise, in the GLBT Challenge. I hope you all will continue to participate!